Implant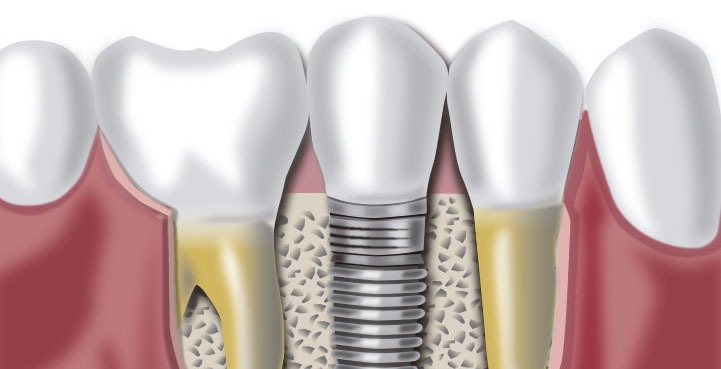 Improve your quality of life with implants. Many people wear implants for some time without other people noticing. If one or several missing teeth, you probably will never get used to the loss of such vital pieces. There is a solution: teeth that look, feel and function like natural. Your dentist may offer artificial roots (small pieces of titanium) that are integrated in their bone forming secure support for new teeth.
Maintain holy neighboring teeth
With traditional techniques, the neighboring teeth must be lost piece llimats to place a bridge. Dental implants eliminate the need to modify healthy teeth, resulting in a more conservative and aesthetic restoration.
Allow eat everything
Patients with dentures eat only a 15 to 20% efficiency with regard to people with natural teeth. Dental implants can restore the ability to chew effectively.
Placing implants
After studying the case, the dentist places the number of implants suitable bone through a simple operation and almost free of risks.
The wound healing period
The implants joining the bear is usually four or five months. However, this depends on the number of pieces in place, the complexity of the prosthesis and the individual factors of each patient. After the operation and for better healing, it is better not to take any prosthesis, at least for the first week. Then you can bring temporary prosthesis, the function of which is essentially aesthetic and have limitations on the ability to chew.
When connecting
the pillar implants have been integrated into the bear, will connect a pillar in each implant. The pillar is the intermediate piece in fixing teeth. The placement of the prosthesis dentist takes the impression that you will use to design the crown, bridge or full denture. Finally, the dentist will fix the definitive teeth on the pillars.
Could I chew with the same force with natural teeth?
After an adaptation period, chewing efficiency comparable to that of natural teeth.
Will my teeth look natural?
When implants are used modern techniques in dentistry, it is likely that their appearance, comfort and function exceeds expectations.
Is the treatment painful?
During the operation the patient feels no discomfort. After the intervention are certain predictable discomfort, depending on the magnitude of the procedure. Most patients tell us that the pain experienced is similar to what causes the extraction of a tooth.
Do inflammations occur after surgery?
In most cases, inflammation is minimal. Sometimes it is normal that the operated area suffer swelling and blue appear more or less extensive, which usually disappear a few days after surgery.
How to take care of implants?
His new teeth must take care and monitor regularly. Your dentist or dental hygienist will explain the techniques and the use of brushes suitable for your case.
Reviews
Detailed Rating
| | | |
| --- | --- | --- |
| Stars 5 | | 0 |
| Stars 4 | | 0 |
| Stars 3 | | 0 |
| Stars 2 | | 0 |
| Stars 1 | | 0 |